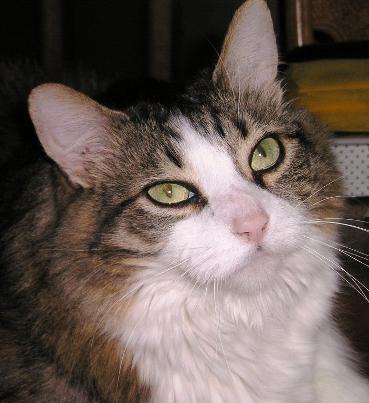 Sassy was our beautiful angel girl. We loved her so very much.
Well, not always was she an angel. She had a little bit of cute cat-it-tude.
When my husband and I first got together he had 2 kitties and I had four. Quite interesting.
He said Sassy wasn't the friendliest to strangers so not to worry if she didn't come to me right away.
Loving cats and all animals I hoped she would accept me even though she was definitely Daddy's Girl.
Sassy and Clyde, his other cat, were inseparable. It was so cute to see how much they loved and depended on each other. Sassy sure loved her daddy most though. Her love-filled gaze whenever he came into the room was so sweet.
Still, I decided to try and gain her confidence so the first time we met I sat in the living room on the floor and she was across the room. I talked to her and decided to lie down to see what she would do.
She came and laid down right beside me purring the whole time.
Her dad said, "That's a first. She's never done that with anyone... ever!"
We became great buddies and she even came to rely on me to keep her coat nicely groomed and cleaned which she just loved... especially as she got older.
At night she would often sleep on her Daddy's chest and just nuzzle in close to him. She loved him so much.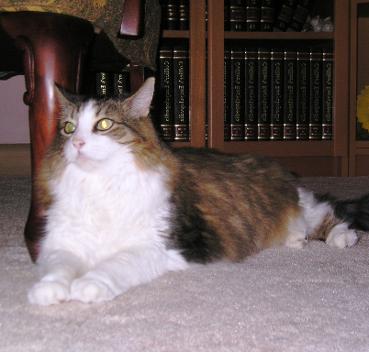 She was a wonderful girl. We miss her so much! We love you Sassy!
Contributed by Dad & Mom, The Carsons