In the words of Anatole France — "Until one has loved an animal, a part of one's soul remains unawakened."
My soul began awakening early in life. As a child I was always surrounded by animals.
I grew up on a small hobby farm where my dad raised chickens and rabbits. Although we tried, my younger sister and I learned very quickly not to make them pets. They were for eating.
Dad was a hunter and he always had a hunting dog. All were outdoor barn dogs. We kids didn't pay them much attention.
My mom had budgies that would do tricks for her. Me, they bi
t.
We had more fun with our cats. My friends and I loved to dress them up in doll clothes and push them around in little doll buggies. They didn't tolerate the dressing up games for long. My arms were often scratched like road maps because the cats quickly clawed their way out of confinement.
Some pets come into our lives and leave paw prints on our hearts and we are never the same.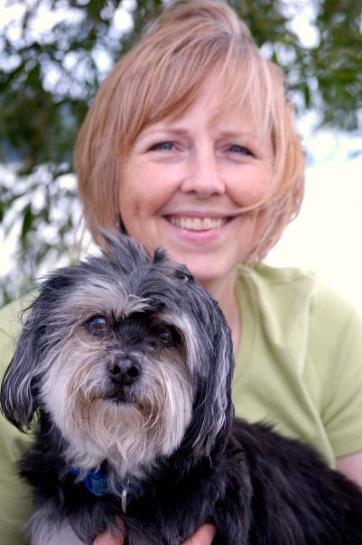 Shadow left paw prints are still pressed deep.
My son's grandfather showed up at the door one day with a surprise — a puppy that was a Maltese / Yorkie cross. I was worried about whether or not we could manage a pet with all the responsibilities they bring. All that flew out of my mind. From the moment he wiggled out of Papa's arms, we were enchanted.
Taylor named him Shadow because he followed him everywhere.
Many people know that no matter who "officially" owns the pet, Mom is the one who takes care of it. I became Shadow's cook, hairdresser, and personal trainer.
Shadow sure gave us a run for the money. I mean literally — with money spent at the vet's.
He ate mushrooms that were growing in the lawn. And was violently ill for an entire weekend. He had a scary allergic reaction to a bee sting.
But the worst thing happened when he got off his tie up leash and chased the neighbour's dalmatians home. Like many little dogs, Shadow believed he was big. And Oh! He hated those dalmatians!
Their owner came knocking at my door to tell me what had happened. Melanie said she was just going through her gate when Shadow came charging up the street, barking like crazy. Then her alpha male bit him, grabbed him and shook him.
There he was, back in our yard, shaking uncontrollably, splattered with blood, and looking like he'd been rolling in the dirt and grass.
He was bleeding but didn't seem to be too bad. The blood in his eye made me call the after hours emergency clinic right away. They told me to make sure I had $250 for them to check him out.
I don't know who was shaking worse — Shadow, Taylor or me. So before we left, I did a reiki energy healing. And I continued to send reiki to Shadow while he was examined.
The news wasn't good. Shadow had shredded abdominal muscles and a detached kidney. It was going to cost sixteen hundred dollars! What do we want to do?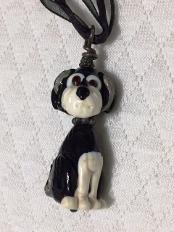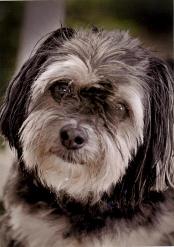 Well, how can you tell a little boy that we couldn't afford to fix his best friend? We'd find the money somewhere.




Shadow had the surgery. The vet told me she'd never seen an animal go through that kind of injury and not go into shock. I told her about the reiki. She thought that was wonderful and was convinced that it make all the difference in handling his trauma.




You don't realize how much a pet means to you until you almost lose them.




Anthony Douglas Williams said, "When we love an
animal as our family, we begin to understand — animals are our family." That fiesty little black dog was most definitely family.
He brought such joy, laughter and love into our lives. He truly made our lives whole.
He loved walks in the woods or just around the block, visiting neighbours. Back in the house, he ran around like a maniac burning off the extra energy. He let us dress him up for Hallowe'en, happily getting his own treats too. During thunderstorms, he kept me company on the front porch, quietly watching the fury of the storm. He was the best cuddler.
At 14, Shadow developed congestive heart failure. We squeezed out another year by feeding him a special diet and giving him meds, but meds and food alone weren't going to fix him. Another trip to the vet and again the news wasn't good. Shadow's kidneys were shutting down. It was just a matter of time.
"Angels walk among us. Sometimes they are unseen and have wings, and sometimes they pant and lick our faces." I so agree with those words by Jonathan Brook.
It's been 9 years since Shadow slipped away and became a 4-legged angel. He left a big hole in my heart. I think of him often and remember his whole-body wiggles of enthusiasm for car rides, walks and special treats. He was my favourite pet. And even though there were challenges, I wouldn't have traded one moment of the pet experience. Shadow truly awakened my soul.
After all ... love is a four legged word.
Contributed by WOW Gal Brenda Toth