What can I say about my dear sweet Golden Retriever, Sasha! She was a joy, loved everybody and they loved her. Most of all she loved chasing her ball and going in the lake, or even my friend Lisa's swimming pool, even when the cover was on, she had to get in the water!
My Sasha was a rescue dog Lisa told me about, and she was just down the street from where she lived. So, I called the lady who had her and she told me that her son just kept the dog in her crate pretty well all the time. She was not able to run around, chase her ball, she probably had few if any toys and she certainly did not get to go swimming!
I was horrified! The poor baby was not able to do what all retrievers get to do, retrieve! She had spent a whole year living like that! The lady was not happy with her son, so she took the dog away from him and was now looking for a good home!
She asked if I would like to meet her and I said YES! She also told me the dog's name was Emily, and I thought, that is not her name!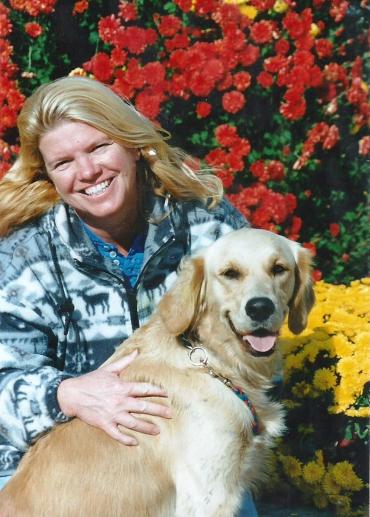 So that night I communicated with Sasha. She told me she was not Emily, she was Sasha. I said well that is what we shall call you then! I also asked her to come and lick my hand after I met her so that I know she was connecting with me the night before!
Anyway, my son Josh and I went to meet her the next day. She was so timid. That of course was to be expected! We sat in the living room with her and talked to the lady. Finally, Sasha came over to me, only for a moment though, but she did lick my hand, as I had asked! Then it was time to take Sasha home. She did not even know "let's go for a car ride", it was so sad! But all that was about to change!
We were hungry for lunch, so Josh and I stopped at the drive through and Sasha was given a milk bone. She was not sure what to do with it at first, but soon figured it out! It was time to take our girl home to our house in Merriton, which luckily had a fenced yard!
Of course, we had gotten toys for her, so she soon learned to retrieve the balls, sticks and whatever else we could throw for her! She loved stuffed animals and would carry them around in her mouth! I would say go get your baby and she would bring one to me! It was so sweet! Josh and I were so happy we had rescued her!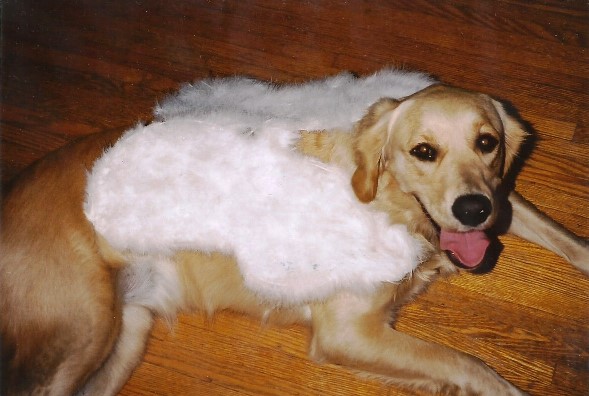 A few days later I was going to an outdoor craft show in Niagara on the Lake, so I took Sasha with me and all was fine when we got there until she saw Lake Ontario! She ran so hard towards the lake that I had to let go of her lead and she leaped into the water and was thrilled!
Yes, she thought, "this is what I am supposed to do!". She loved it and played with the kids that were in the water and dove under for the stones that they threw for her! So, Sasha finally found out what a retriever was supposed to do!
Eventually I moved Sasha up to be with Jess and Curley, Jesse and I had started dating and he lived
in Hepworth, which is in the south Bruce peninsula.
He had 3 acres and a nice log house, and a white boxer named Curley! Right away Sasha felt at home, and so did I of course.
Sasha and Curley got along great and of course she loved Jess! We would take them to Sauble Beach and Sasha would head straight for the water, Curley was not a water dog at all, but he would watch Sasha retrieve her ball repeatedly! On our property they always ran free and never took off! They got along so well together, just like they were meant to be brother and sister, which of course they were. They got to spend some good years together!
Then when Sasha was about 6 or 7, she woke up one morning all bloated. Her stomach area was really swollen! It was Canada Day weekend and we were not sure if we would be able to find a vet open. The vet clinic in Sauble Beach was open so we rushed her over there. They took x-rays, but you could not see anything, as she was so distended! They said we could take her to Guelph for further examination, but she may not make it.
We knew what was coming next, yes, they wanted to euthanize her as there was nothing that could be done. Jesse and I were able to be with her and tell her we loved her, and it was time for her to go to the light. It was a shock as this all happened so quickly! She was fine the day before!
We took her home and let Curley see her and smell her, so he would know she was gone. Then we buried her on our property. Sasha touched so many lives and we were heart broken, but happy to know that we had given her the life she deserved.
It has been about 15 years since we lost our sweet girl Sasha, but she is forever in our hearts! Curley lived a couple of years after she passed, but you could tell he really missed her. My next tribute will be about our boy Curley, so stay tuned till next time. I enjoyed going through all our photos to find the perfect ones of Sasha! I had forgotten that one time I had put my angel wings on her and when I saw those photos I thought, well I am writing about my pet angel Sasha, so how appropriate!
.
Contributed by WOW Gal Lee (Lyla) Royer