A Tribute to Seffie Beautiful
I had been grieving the loss of my two elderly cats, Cally (21) and Lissa (20), and had just reached a point in my life when I was ready to welcome two new kitties into my life.

I checked my vet's website as he often takes in surrendered or lost/found cats, and saw two photos that spoke to me immediately, Seffie (named Persephone by the staff), and Em. Seffie was particularly striking in her beauty and her gaze.
She had been found injured and ill in a ravine near where I lived and my vet had been treating her for three months. She was nearly ready for a new home when I came to meet her. She was brought into a quiet vet's office where I had Em with me already. Seff walked in, sniffed a brief hello at Em, and then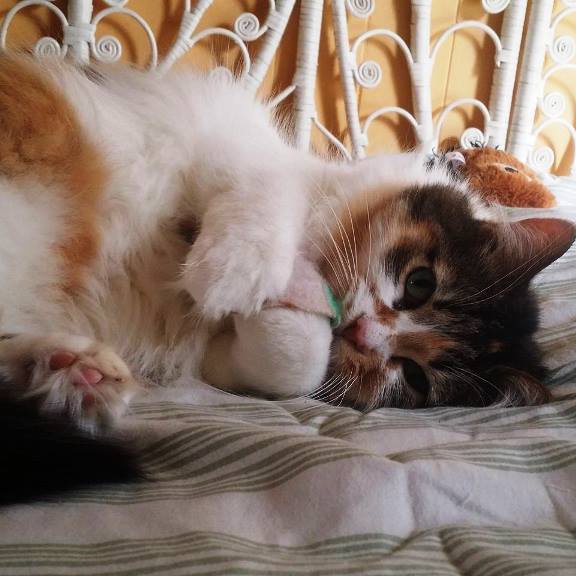 walked over to me, circled my feet, and sat on them! She had adopted me, that was clear. I fell in-stantly in love.

Seff was my heart and soul, in her own way, but in some ways, our bond was deeper than it had been with any other animal in my life. I admired her tenacity, her independence, and her ability to state clearly what she wanted and when.
If she was unhappy for any reason (usual-ly just wanting my undivided attention, not shared with Em), she made that known, too. After Em died, she had me finally all to herself and I thought we would spend many more years together.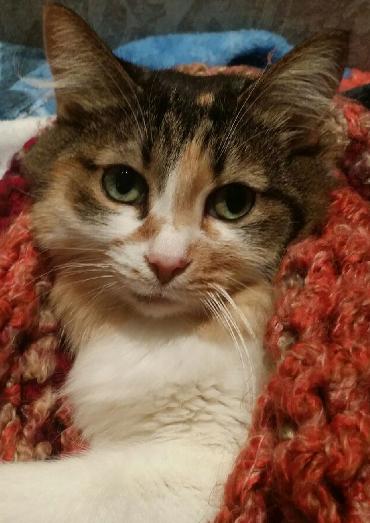 But shortly after Em left, we sadly discovered she had a fatal illness, lung cancer, perhaps caused by whomever had her before me and may have been a smoker! This broke my heart, but I focused on staying as positive as I could for her, giving her all the comfort and love I had for as long as she wanted. She lived even longer than the vet expected, but there came a day when she made it clear it was her time to go. It was the saddest parting ever for me of a pet but I accepted this as best I could, and did not leave her side for days as it became clear she was near to depart. We spent our time often curled up together. I offered her Reiki and soft love words, and she continued to purr and gaze at me with such love.
Seff taught me so, so much. She taught me how to speak up for myself, how to express genuine feelings, how to do what is truly best for me, first and foremost. And she taught me a new level of love, everlasting.
Seff was one of the strongest beings I have ever had the privilege to come to know. And I feel her with me still. I am trying to communicate with her, and I feel
she comes to me on her own at times, too. I feel her
love and support to live my life differently now, remembering all she taught me. And I hope somehow, someday, to be with her again. She will always remain in my heart.
Submitted by Joanne Ingrassia