A Tribute to Ralph Fitzpatrick
As I searched for photos of my beloved first cat I realized how much cameras have improved since the 70s.
Once again I had no intention of getting a pet when I saw the sign at St Lawrence College where I was doing the in school component of my apprenticeship. On a pillar across from where I was sitting was a huge sign, " $5.00 Cats Available. Neutered and all shots Included. Come to the Veterarian Class to Choose Yours.".
Before I knew what I was doing I was travelling home on the bus with my new female cat named Ralph. Yes I named her... she just looked like a Ralph and came when called.
My roommate was a little surprised but grew to love Ralph as much as I did.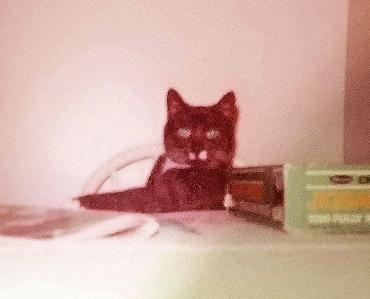 We lived on the 2nd floor and it wasn't long before Ralph was using the window to leave on his evening escapades. He would return early morning to spend time with us before we had to leave for work and be ready for play and lap time when we returned.
Ralph's favorite trick was to play with my jigsaw puzzle pieces whenever I got up for a few minutes. sitting on his own chair, up would come his paw to gently move a piece to the edge and then drop it to the floor. He would soon follow and begin batting it around like his favorite toy. Needless t say I had to search the apartment for missing pieces in order to ever complete a puzzle.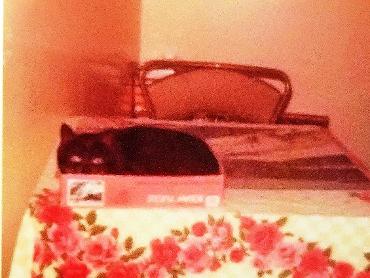 When I would catch him and stop him from sneaking a piece he would simply get up on the table and either plunk himself into the puzzle box or lay down on the puzzle looking at me with that smug comical look of satisfaction..
We had over 10 years together, through 3 moves and a new man in my life who became a permanent fixture and competitor for my affections.
Ralph was a real character and loved going on outside adventures until she was investigating our back yard at the 3rd home we had moved to.She was attacked by a large tomcat and never went out again. That attack seemed to take the life out of her. She had lost her pride and fear kept her from ever taking a step out through the door again.
I never got to say goodbye to Ralph because she passed away while I was at Teachers College during the week.
From the tears I unexpectedly shed while writing this I know I have the closure that was missing all these years. Love you!