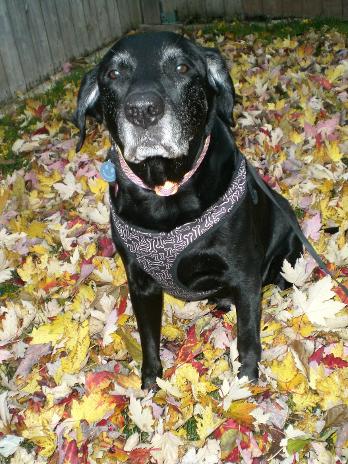 To My Sweet Soul Dog Quazar

In August 2006 my life was forever changed when I brought home my very first dog. We found a family that had 2 Labrador puppies, they couldn't keep both.
When we arrived at their house, the door opened and out came running 2 beautiful puppies with exuberance and such joy in their eyes. They said, "it's the black one." As he started ripping their flowers petal by petal, I picked him up and held him close and knew he was meant to be mine.
I put this 12-week old puppy on my knee in the car and he was so sweet and so beautiful, my soul bonded to him right away. We didn't have a name picked out as we wanted to see his personality first. By the end of the day, we knew what his name would be QUAZAR, we changed the S to a Z to be unique.
He was full of energy, excitement, and love, he emitted it out into the world with such grace and gentleness. A "Quazar" is believed to be the most distant object yet detected in the universe. Quasars give off enormous amounts of energy, they can be a trillion times brighter
than the Sun and, they drown out the light from all the other stars in the same galaxy. He would drown out my sorrows, brighten up my day every day and was full of endless energy. His name was fitting throughout his life
.
My Quazar meant everything to me, he was my best friend, confidant, therapist, protector, my universe. He meant and still means more than words could ever express. He was my heartbeat. He is gone from this world but will forever be a part of me. He has given me more than I could have ever given him. The unconditional love shared with him made any stress of the day fade away. He made my world sparkle. He was woven into everything that I did, was the best part of my day and I wouldn't have had it any other way. The 12 years and 9 months I had the privilege of having him in my life will forever be treasured. It was not nearly long enough, forever would have been far better.

Quazar was fearless of everything. He was always taking me on adventures. Whether that was just a walk along the Welland canal or going to a new place. He never wavered from new situations or trying anything, he crossed train bridges, hiked, swam in the canal with the big boats. He was never afraid to try new things or meet new people or animals. He taught me to live life without fear and to take in every experience as if it was the first time with so much joy and happiness, as he did even if we had done it many times.
Quazar was always full of love, always giving it and receiving it whenever I needed some. One night on our nightly walk, we were walking down a path. He went up ahead to smell something, turned out to be a white owl. He was being ever so gentle, the owl just sat there and accepted his greetings and then flew away. Such a beautiful thing to witness, never any fear from other animals. When Quazar was young I had 2 lovebirds that were escape artists. One morning I awoke to find one sitting on his head and the other on his paw and he was just sitting there with them, so gentle, again so loving. He loved his people too, always ready to great any person that came into contact with us. He was gentle with the elderly and had quite the fan base at the local senior community center. The love I shared with him truly taught me what unconditional love really means. No matter what he loved me and I loved him.
Quazar was unique as he was beautiful. I never got tired of hearing all the compliments he received. To me, he was absolute perfection. I don't know how I was blessed with such a wonderful, loving, selfless soul. He learned very quickly, was easy to teach and when he was young he also made the same sound that Chewbacca did from Star Wars, it was an exact match.
One of my best memories:
He loved FIREWORKS, that's right. Loved them. We could see the fireworks from our house every year. As soon as he heard them he would look at me with his big beautiful ember eyes that would say "come on mama, let's go, let's go, I need to see them." He would bark at me until I complied. I always complied.
Outside he would sit and gaze up at the sky in amazement. It was beautiful to watch him be amazed and happy to see the pretty colours in the sky. He wouldn't move a muscle until they were finished.
He also enjoyed smelling flowers, whenever he walked past any, he had to stop and smell them, if he liked it he would take a second sniff. The sweetest thing to witness. How lucky I was that the family who was rehoming him decided that they wanted the yellow puppy, their loss was my greatest gain.
I am so thankful for our time together and would do it all over again even though my heart is broken and my soul is crushed from losing him. He took a huge part of my heart with him and left me a piece of his. He will forever be that once in a lifetime dog.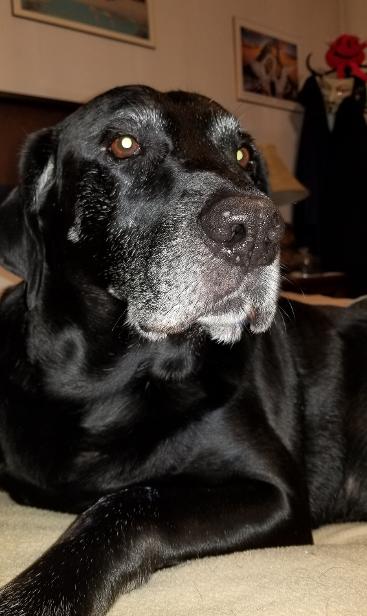 Quazar Scott-
Krajcovic
, thank you for letting me be your human. You were the Yin to my Yang. Until we meet again my sweet boy. I miss you, I love you, and thank you for being you. May 5th, 2006 - April 21st, 2019 - If love could have saved you, you would've lived forever.
Submitted by April Scott