One day while feeding the birds on my back deck I noticed a couple of red squirrels eating the bird seed. The one red squirrel chased the other one away.
I started standing at the patio door watching when it came back. I noticed it had one eye closed. I would talk softly when it came around and it didn't run away. I got some raw peanuts and started putting a few out with the bird feed. It liked them.
I also noticed it was a female. As the days went by her eye still didn't open so I knew she was blind in that eye. It was her right eye thus the name 'One Eye". I was easily able to tell her from the others.
One Eye came every day looking for peanuts. I would talk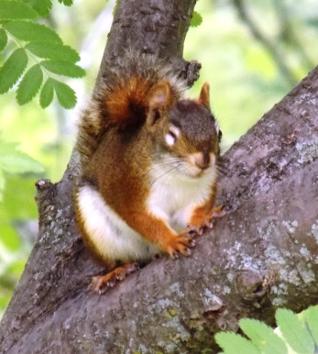 softly to her and eventually go out on the deck with peanuts. She started letting me get closer to her. She knew I brought her food. She started sitting on the railing looking at the patio door when there were no peanuts. I started trying to see how close I could get to her.
One day I noticed her eating the food I had put out for the birds. A dove wanted to eat but One Eye wouldn't budge. The dove put its wings up and spread its tail. One Eye still didn't move. She ate until she was full then she left. The doves and other birds only came in to eat once she was gone.
One Eye started letting me get closer to her. First, she let me stand beside the railing she was on. I would put a couple of peanuts on the railing and talk to her. Then she would come over to me and take peanuts from my fingers. Soon she would eat them from my hand and look for more.

One day I wondered if she would let me touch her, so I put my finger on her head and touched her. She didn't flinch. So, every time after that I would talk to her and pet her.
Summer arrived and the days started getting hot. I put a dish of water on the deck beside the peanuts and bird seed. She would eat and then get a drink before leaving. She kept the other squirrels away, even the gray and black squirrels.
On a really hot day she would lay her belly on the deck and spread her legs to cool off. Of course, it was after the sun was off it and the wood had cooled down a bit. She would get a peanut and lay her belly down to eat it. It was so funny when she did this as she looked at me with her one eye.
One day I noticed she was scratching herself a lot. I thought maybe a flea or tick. Then she started getting some bald spots. It was early fall, and she was losing her fur instead of getting winter coat. I think it was November the last time I saw her. I think she had caught a disease called mange. I never saw her again,
One Eye was only in my life for a short time and I still smile when I think or talk about her.
Contributed by WOW Gal Pat Hutchinson