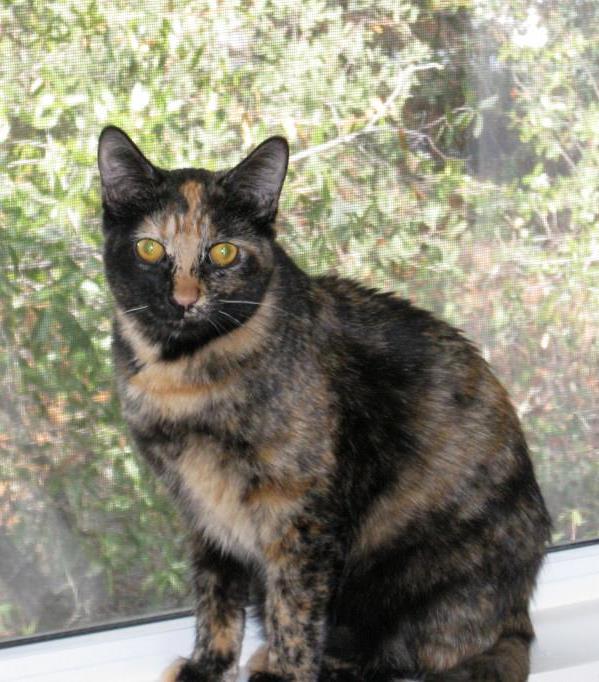 Maraya came to me in 2010, as a 9-month old cat who'd been born to a feral Siamese mother, fathered by a man-about-town orange tabby tom cat. Her parents were cared for in a community cat/Trap-Neuter-Release program run by a local rescue organization, and Maraya and her littermates lived in a foster home in the first months of their lives.
I was living in Prescott, Arizona at the time, and Maraya appeared to me in a vision one afternoon as I was driving home from a trip to Phoenix. As I drove the winding, steep road up the mountains, I saw an image of a giant tortie-cat face, as large as the mountain itself, hovering in the clouds over the top of the highest peak.
In shock, I said, "Who the *%&**# are you??"

And she said, "I'm your cat. I'm coming to you. But you have to give me a few days to get back to where you can find me. My name is Maraya. Make sure you spell it correctly. M-A-R-A-Y-A. Not 'Mariah'. Maraya."

So I went home, not sure what was happening, thinking, "Did I really just see and hear that??", and I waited. A few days later, the message came, "Look on Petfinder." And there she was, the tortoiseshell cat I'd seen.
I called and talked with her foster mom. Turns out, at the time she'd appeared to me in the mountains, she'd been adopted by a family who immediately took her on a camping trip in their travel trailer. It was not a successful trip. (Anyone who ever knew Maraya would understand why this adoption failed. ????) They'd returned her, and her foster mom had posted her on Petfinder again the day before I'd called. I then understood Maraya's message, "You have to give me some time to get back to where you can find me."
Maraya was sensitive, shy, deeply aware, more fairy than cat. When I went to adopt her, she hid under the furniture. When the foster family finally got her out, I held her in my arms and said, "It's me. The one you called. I'm here to take you home." And then she relaxed.
Over the years of our life together, it was clear that Maraya was really only interested in relationship with me. Our bond was strong and close, but on Maraya's terms. She hated closed doors. She disliked noise and chaos. She particularly disliked "out of control dogs" i.e., young Afghan hounds, though she was close to and often snuggled with my little dog, Abby. She was also close to our elder cat, Maddy, especially in these last years, and she tolerated, and occasionally played with Milo. She'd often sit on my lap as I worked in my office, content to sleep while I worked on my laptop.
Maraya didn't care for most people. Over the years, there were a few people who took the time to get to know her, to see her, to be patient and respectful with her, and she rewarded them with openness and softness. If people were abrupt, impatient, loud, didn't see or recognize her, or viewed her as "just a cat", they could spend hours, sometimes days in our home, and never see her.
Maraya was an animal teacher in many of my animal communication classes. She participated willingly, as a kind of "public service," but she didn't love it as some of my other animals do. She wanted to help people to understand the depth and nuance that is available in telepathic communication with animals, and she was sometimes a tough teacher, insisting that people do their work and really connect with her. If they made assumptions about her or "checked out" into human discursive thought, she'd simply disconnect. It was the telepathic equivalent of a tortie-cat swat with a paw. ????
Ten years together seems like such a short time. The universal truth that we never know how much time we have has landed in me so strongly with her passing. Maraya felt complete with her life, that she'd done what she'd come to do. She has stayed close to me from the spirit world, showing herself to me in butterflies on our land and in the forest, and filling my heart with her sweet presence and her grace.
I have created a special memorial garden for Maraya, with a statue of St. Francis as a guardian. My grief comes and goes in waves. I miss her beautiful presence, and I am filled with gratitude for all the gifts of her life and our relationship. Maraya was quiet, and deep, and powerful, a huge presence in an unassuming form. Her death has left all of us feeling a little uncertain, a little shaky, a little disoriented.
We're rebalancing, slowly, in this intense time of global chaos and transformation.

Here's Maraya's wisdom for all of us: sit with your loved ones, take some extra time, take a break from doing, and spend some time just being. Watch the insects and the birds, stay close to the beings that you really trust–those who truly see you, understand you, and love you. Honor patience, gentleness, sensitivity, quiet, and kindness.
My beautiful, dear, and quirky cat friend, Maraya, died in 2020 and the other animals and I have slowly adjusted to the Maraya-sized energetic hole in our household.
Maraya was diagnosed with metastatic lung cancer close to the beginning of the COVID shutdown. She rallied for a little while, and we had a few months of up and down together, trying various palliative treatments with varying effects. In the end, she left quickly, and in her own time. We had an appointment with our vet for euthanasia, but Maraya left on her own, in our home, a few hours before.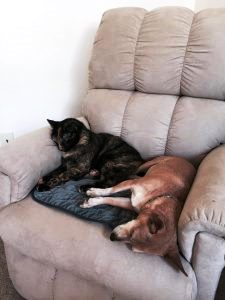 We'd spent most of the morning together. I held her on my lap, wrapped in a little blanket. She felt pretty awful and was ready to leave. I didn't feel ready to let her go, but I knew it was time. In those last hours of loving connection, Maraya and I reviewed our lives together; the joys and challenges we'd shared, and our deep love for each other. And when it was time to go, Maraya died as she'd lived…independent, on her own terms, in her own way.
I wish you and your animal friends a beautiful week of deep connection and appreciation of life's simple joys.
Contributed by Mom, Nancy Windheart