A 14hh pony of Welsh type. Bay mare with dapples as the seasons changed. Three white socks, a crooked blaze, a tiny white star on the forehead and smidges of pink and white under the lower lip and at the bottom of the blaze. Half a mane and a beautiful black silky tail. A powerful neigh, a gentle nicker and a kind eye. A mischievous character and an overwhelming love of food. In short, the most adorable pony you ever saw....
In the summer of 2002, we visited Lower Wall Yard to learn more about grooming and looking after horses, just for fun really. I had no actual intention of buying but before I knew it, we had looked at a little pony who was up for sale. That was Little Mo (Mojo).
When first showed to us, I thought that she was a funny looking little thing. She had a very strange mane with a sort of quiff in the middle, like a teddy boy! She had a very crooked white blaze and a tiny wonky star that was more like a stripe on her forehead! She was quite rounded. She was in fact so round, that she later rolled onto her back in the field, in a tractor rut and became completely stuck!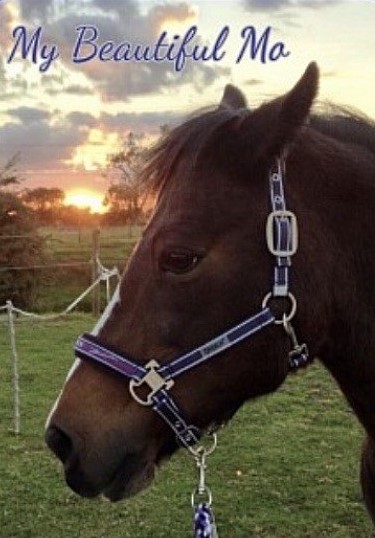 A young girl rode her in the field for us and took her over a couple of jumps. She looked so well behaved that Tash (my daughter), took her out on a hack with the owner to see what she was like as I was too nervous and hadn't ridden for years.

When they got back, I sat on Mo in the field and I was terrified when she promptly neighed really loudly, threw her head up and down (most probably because I was holding the reins too tightly) and started to walk off.
When I later asked my daughter how her hack went, she said that Mo was perfect. I didn't find out until later that she had been really naughty on that first ride, but Tash was so desperate at that point for me to buy her that she didn't say anything to put me off!
And so, I bought Mo, in the summer of 2002. At the age of 42, I had finally achieved a childhood dream to own a pony. And our adventures together, and a brand-new chapter in my life began... Mojo was the perfect size for my daughter and me to ride and we were so excited about sharing lots of fun times together with her.
A girl we knew, called Sam came to see her a couple of weeks later and had a ride in the school. Mojo was her usual cheeky self and began chucking out the occasional buck! We said to Sam, "so what do you think of her Sam?" and the reply was "erm well she's very sweet Pennie, but I wouldn't have got her for a first pony".

The problem was that Mo really did want to kick other horses. She didn't like being around them, not even her field buddy Major, at times. In fact one morning we found that Mo had kicked down the entire partition wall between them both. She was standing in the corner looking as sweet as ever, as if to say 'What? I didn't do it'. She also tried to kick another horse, Buster, when he got too close, kicked my leg instead and I ended up with a haematoma the size of a golf ball on my ankle!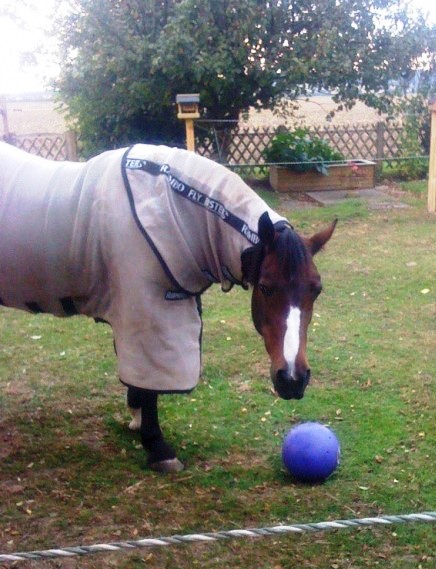 Yet, we had some wonderful rides round the country lanes, up the hills, in the daytime and sometimes the evenings. Sometimes they would go on for hours, crossing bridges, going along dual carriageways, along country lanes, through fields and woods and taking little jumps along the way. We had such great times together.

Mojo was often extremely naughty. Once when she was out on a hack going down Lympne Hill, which is extremely steep, something spooked her and the next thing we saw was Mojo, overtaking the other horse and rider at a great speed, whilst going down the hill!
Her favourite trick at the school, was riding like a crab. She would go sideways trying to get out of whatever we were asking her to do, often nearly bringing us to tears, she really was so cheeky. She could of course also be very adorable and sweet. She loved being groomed so long as there was something nice to eat, but she didn't like her mane being pulled so I just cut that, well what half of it she had left. Mojo quite liked to hack out, so long as it wasn't on her own, and she enjoyed jumping. After a long hack, we would often find her sleeping in her stable and sit next to her on the floor...
When Mo went on one of our hacks up to the beach, she decided that she would be the only one who wouldn't go down onto the sand from the sea wall. She was a right so and so and very determined! We finally managed to coax her down after a great deal of time and she joined the others for a lovely ride.

Within weeks, days even, our relationship changed. I had always loved Mo, but this was completely different. The bond that grew and the trust we now shared was nothing like before. We had fun learning to ride sideways and backwards, and played games with barrels, cones and poles.
We played our games, using natural horsemanship techniques, in the fields, in the stable, in the barn and in the garden. I taught her how to pick things up and she rewarded me by picking up a full water bucket of water and emptying it all over me, oh how I laughed at that as she was so pleased with herself. It took time and energy but I was finally able to ride her in a rope halter, she didn't bolt off anymore, she didn't nap and she started to go and muzzle things that she had originally been scared of if I asked her to, rather than spooking away from them. We went for long rides and walks in hand around the country lanes and across the fields. She became confident, very relaxed and laid back about life. This meant I did too!
Mojo became so chilled about life. Natural horsemanship and my sessions with Cathy really did change our lives. For the first time ever, I was confident enough to take Mo out for a lovely canter in a rope halter, across the stubble fields. It was simply wonderful.

I had no idea that the last week in October of 2018, would be our final one together, but I am so glad that we enjoyed some lovely times during those seven days. Mojo had been doing really well and there had been no signs of any problems. I had even sent a video and a picture to friends, earlier in the month to say how good she was looking in her old age.
At the beginning of the week, Mo had the farrier over to visit. He said that the hoof that she'd had to have re-sectioned in June was really growing through nicely and should be fully grown by Christmas.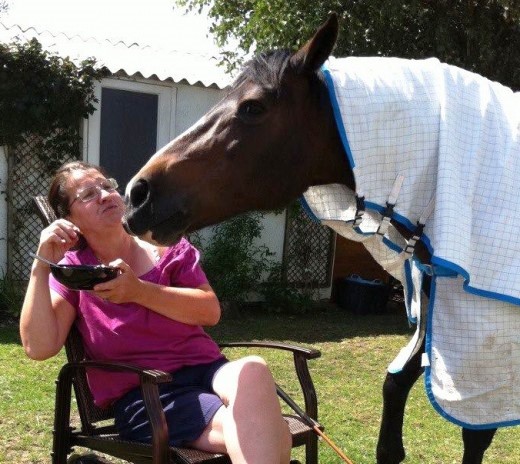 I was so pleased and thought to myself, yippee, we will have a Christmas Day ride to celebrate!
On the morning of Saturday the 27th of October 2019 my beautiful pony was as nutty and happy as ever. She had heard some cyclists ride past the house, talking and shouting to each other. As if to tell them to be quiet, Mo suddenly trotted the length of her little paddock, stuck her head over the front gate and neighed loudly at the top of her voice! She was so funny, sometimes she seemed almost human.

The afternoon turned cold, even though the sun was shining so I decided to put her in her stable early. I gave her a lovely brush, especially her long silky tail and popped on a couple of rugs to keep her warm. When I went into her feed shed, she head butted the door several times, as usual, eager for food. It was a bit too early for tea so I gave her a little snack and one of her little likits as a treat to tide her over.
Later in the afternoon, I looked across to the stable and noticed that Mo was lying down. When I popped out to see her she seemed quite happy so I didn't worry. I thought she was just a bit tired and having a little afternoon snooze. When she was still laying there 15 minutes later, I checked again. This time I could see that she had problems. Her breathing was raspy and laboured, she was laying flat out and didn't want to get up.
What happened that evening were to be the saddest moments of my life. When Sarah, the vet from Milbourn Equine came out, and after examination, injections and discussions, we decided as a family that the kindest thing to do for Mo, was to let her go on her journey to Rainbow Bridge. We were all there with her and I knew that she wouldn't be afraid laying with her head in my arms and Tash by her side in the stable that she loved so much.
It was all so peaceful. Mo laid there so gently and calmly with us talking quietly to her the whole time and then, in that single moment, her head became heavy on my lap and our journeys took different directions.
Little Mo stayed that night, safely tucked up in her little stable, with our own special blankets covering her. She went to Cherry Tree the next morning for her body to be cremated and her ashes later to be returned to me in a beautiful scatter basket. I am so thankful that Our Little Mo went to Rainbow Bridge so calmly and peacefully and that we were with her all the time. I could not have asked for anything more.