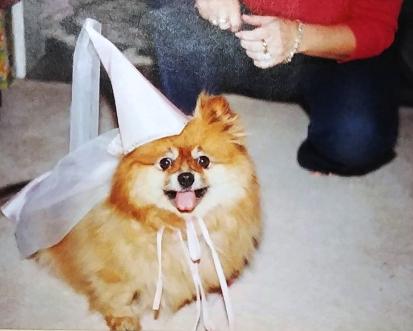 Molly was actually a gift to my husband Shawn from me!
After my dad died Shawn was such a great help to me not just for support but helping taking care of his property. I had told my sister I wanted to get something special for Shawn for all his help and I believe that same day he came home from work and showed me a picture of this beautiful little Pomeranian he saw at work in this newspaper.

He said he didn't know if he should bring home the picture because we already had Leo (a larger mixed breed) and cat named Woody.
I said why don't you call and see if they still had any because I wanted to buy him something special. So, he called and they said they had a little boy and a girl left. I said I would like a girl this time and that is how we got her! We loved her as soon as we saw her and she always gave us back as much as as she could.

She was very special to us, especially to me because she was with me all day while Shawn was at work and my son Kyle was at school. I was grieving my father's death and that's why when she passed it was so difficult. She was my saving grace! She didn't replace my father but really helped me through the heart ache of losing him. Molly truly helped me through such a difficult time.
She was a sweetheart and a wonderful addition to our family. In fact, she always looked like she was smiling and that made us smile too. She was so well behaved she was welcome everywhere we went. She loved to be dressed up in her little outfits and loved to have her picture taken.

Shawn would take her for walks. He would see her sitting by the door and lovingly ask her if she wanted to go for a walk. Her response was always enthusiastic. I used to wait for them looking out the window to see them coming, I used to love seeing them walk together she walked so slow. But what a beautiful sight it was for me to see them!
He also used to take her for bike rides in a basket attached to his bicycle.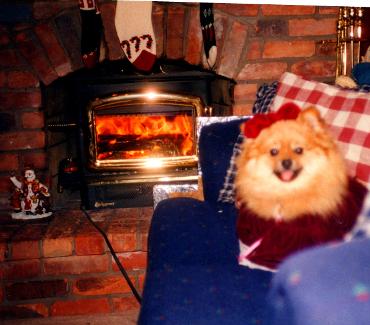 When she eventually lost her eyesight and found it harder to keep up, we bought her a baby buggy and would take her for walks in it. Once Shawn even took Molly fishing with him out in the boat. He said when he came In to dock the boat people told him they got a kick out of seeing this cute little Pomeranian sitting on the seat next to Shawn.
Truly loved ❤️ that beautiful little girl!
Submitted by Teresa (& Shawn) Brunette