Katy Perry recently lost her beloved cat, Kitty Purry.
The adorable feline graced her social media pages and even starred in one of her music videos.
She shared this tribute on her Instagram:
Sadly, Kitty completed her 9th life last night.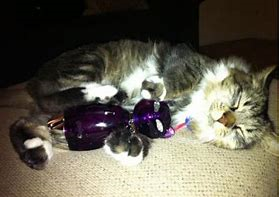 I hope she rests in salmon fillets and tuna tartare way up in catnip heaven.
Kitty, thanks for the cuddles and companionship along the way.
Within one day, over a million of her fans reacted to her post.
One wrote, "Rest In Peace Kitty Purry. Every time I hear "I Wanna Dance With Somebody" I will stop whatever I am doing and give a shimmy just for you."
Another said, "kitty purry is the mother I've never had… the sister everybody would want, she is the friend that everybody deserves. I don't know a better cat."
Katy concluded the post by saying, "Big thanks to my brother David and @garethwalters for being great co-parents ? #kittypurryforever".
KItty Purry often preferred to play with a banana
Gareth Walters posted another touching post in Kitty Purry's honor on his Instagram.
This deeply saddens me to say, and I'm struggling to find the right words. Last night I had to say goodbye to my favorite little purr. I am heartbroken at this sudden loss. Kitty had an unbelievable life and was nothing but love throughout. I'm incredibly lucky to have had her in my life these past few years.
She had character and heart like no other animal I knew. I'm already missing the simple pleasures of her jumping into my lap, her constant purring, and her frequent disobedience to any rule I attempted to make for her. I know she will be deeply missed by anyone who had the pleasure of meeting her.
I'll never forget how much love and joy you brought to me. I love and very much miss you, Kitty.
Kitty Purry was the inspiration for Katy Perry's Fragrance & Make Up Line PURRY which is still available on many of the shopping sites.
This was created as a Mother's Day GiFT Set
and is even more special now that Katy is expecting her first child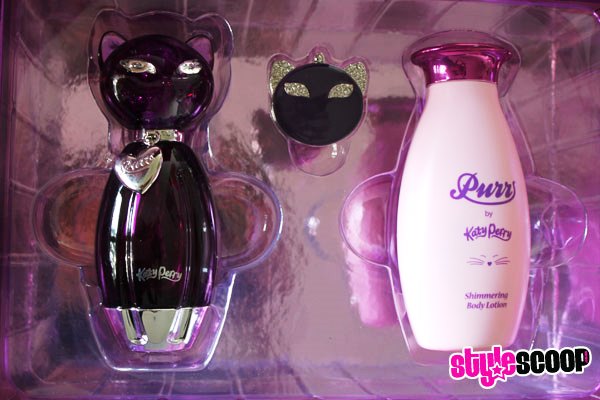 Contributed by Katy Perry, Garath Walters & Fans. Compiled by Carolyn Shannon