On February 2, 2018, I said goodbye to my 13-year-old cat, Hector. He was my heart cat. He was my baby. And I miss him so much. Every time I think about him, it physically hurts. There is something empty inside of me.
In November of 2017, I took Hector to the vet because he seemed to be getting sick more than usual. He'd always been a pretty fragile cat, health wise. He threw up a lot and had constipation problems most of his life. He'd had several overnight stays at vet hospitals. But he always came through it.
I took him to get an ultrasound. It didn't take as long as the technician's assistant said it might. I thought maybe that was a good thing.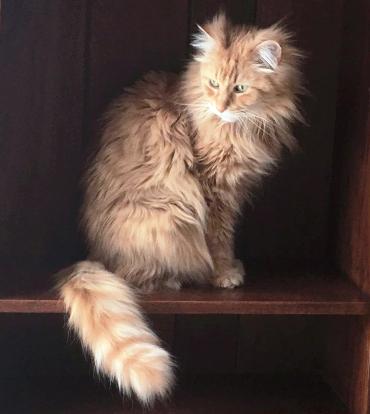 I took him to get an ultrasound. It didn't take as long as the technician's assistant said it might. I thought maybe that was a good thing. Hector never fussed around vets. He was terrified of them and would hide underneath my arm but he was never mean to them. He was a cooperative cat. They sent the results to Hector's vet. His small intestine's mucous was thicker than normal. It could be IBD (irritable bowel disease) or cancer.

Hector still had his good days. He loved to cuddle, to greet me at the door, to watch for me through the patio while sitting on the table, to steal my seats, to roll on the concrete, and all the other things he loved to do. In the back of my mind, I knew I would have to make a decision one day, but I tried not to think of it.
The bad days started to happen more often. He stayed in his "sick spot" all day. His coat began to look ragged. He was just skin and bones. His eyes began to sink in. My heart broke. I didn't want to make that decision.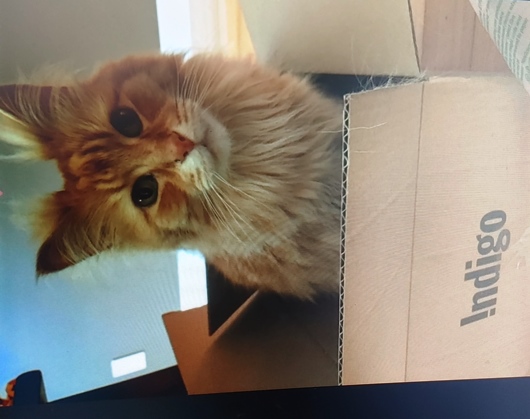 His medicine wasn't working. He didn't seem to be in pain, but I didn't want it to get to that point. I felt so alone. I didn't want to do it too soon and I didn't want to prolong it. One day, he just lingered in front of his food and didn't eat. He looked so poor. Yet he still wanted to cuddle. How could I make this decision?

When I took him to the vet they took one look at Hector and confirmed my worst fear. There was nothing else to be done. So, I had him euthanized.
There are always those what-ifs. Those doubts. Regrets. I can't go back and change anything. I can only hope that I did the right thing for Hector. It was never about how much I loved him and didn't want to let him go; it was about his quality of life, or lack thereof.
In any case, I am now remembering his life and not his death. It is still hard. I want him back. I'd give anything to have him back in my life. But alas, it cannot be.
In closing, I want to share one happy memory of Hector. I had been in New York City for the weekend. My mom was cat sitting and when I got home, they were all outside, Hector hiding in the cedars. He heard me talking to my mom and came running out to greet me. He actually looked so happy to see me! He was like a dog in many ways. Anyway, it felt nice to be loved and wanted. Hector made me feel that way all the time. He will always have a special place in my heart.
Contributed by Mom Vanessa Nelson