Protector Prince Augustus...
My Pet Tribute is about my pet cat Gus or to be more precise Prince Augustus, Gus for short.
Gus came to us because my youngest daughter at the time was four years old and she was afraid of animals. We didn't want her to grow up being afraid of them so we took her to the pet store to see what kind of pet would appeal to her. Well, she fell in love with the kittens and that was it.
The next thing I did was read about the care of cats and their breeds and decided on a Blue Persian because I have always wanted a Persian cat. We talked to our friends who had several Persians and they recommended a breeder, so we drove to Fergus to get our darling little kitten.
What a beautiful, good temper, good natured cat he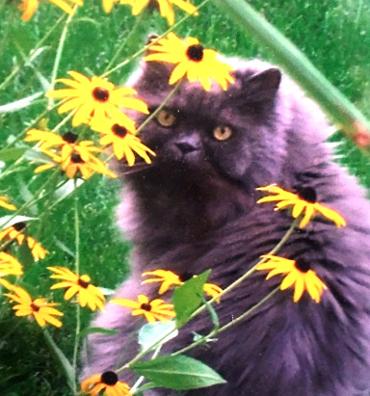 grew to be. Full of love and he cared for us and was protective of us. We couldn't have asked for a better cat to be in our lives.

Gus was predominantly a house cat but liked to wander in the backyard and when he was out there he became the jungle cat. He was so cute as he would wander around the hostas, peeking out between them the ferns in search of his prey and yes he would gift us with a mouse every now and then. One time he almost caught a snake which scared the living day lights out of me lol.
Gus was also a comfort to me when my husband passed away, he would greet me at the door and sleep with me in my bed so I would not feel alone. Gus was more of a person then he was cat. He would do backflips in the air, he understood a lot words and it was easy to speak with him, his vocabulary was impressive.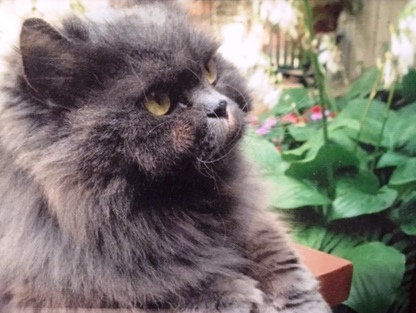 I loved playing with him he was so energetic and liked to be groomed. We had our daily routine in which he would wake me up in the morning and say, "meow meow" which meant, "time to wake up I need grooming and I'm hungry" LOL. Our morning routine would begin with Gus sitting on a chair and me brushing his fur. Next I would wash his face and his ears. Then finally we would go downstairs for breakfast. He loved to have a bowl of tuna every day and on special occasions Gus had shrimp.
Some people said Gus was a spoiled cat but I never thought of it that way how else do you repay a pet who gives you so much love.
It's a strange thought but sometimes at night when I'm in bed sleeping, I can feel him jump on the bed, I can actually feel his foot prints. I know it's his way of protecting me and saying "don't worry, I'm here, you're not alone".
Gus gave us so much pleasure, joy and love he was a wonderful cat. We had him 17 years and then he passed, I miss him to this very day. I write this tribute with love for my darling Gus.
Submitted by Marilyn Salciccioli