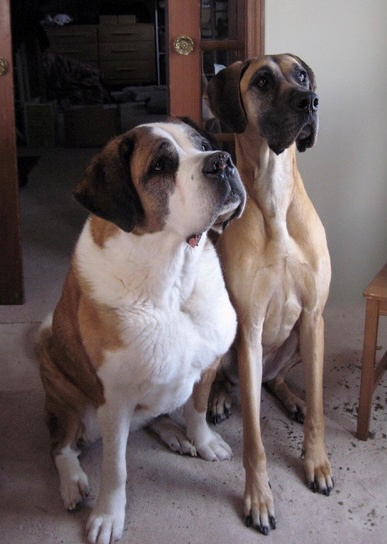 Ella Francis & Audrey Elizabeth Inksetter
2 Peas in a Pod
Both Ella Francis, a St. Bernard and Audrey Elizabeth, a Great Dane came to us as puppies. Ella came first and Audrey about 4 years later.
They bonded immediately as if they were siblings. Ella Francis was more of a mischievous character than her "sister" Often making friends and family laugh at her sometimes "unacceptable" behaviour.
One example being one holiday when she saw her opportunity and before we knew what was happening we caught her licking the raw turkey. Not so funny at the time…but many have laughed at
this story later in its telling. Thankfully not all of her antics were quite that dramatic.
They were both so beautiful to look at and their soulful energy was amazing to be around. They were big and slow and kind.
We used to drive around in my little car…Ella behind me, Audrey beside Ella. A somewhat comical looking sight it made heads turn.
When Ella passed away Audrey missed her as much as we did. She often looked around for her as if she were
playing hide and seek with her sister. And believing in spirits of loved ones visiting, per-haps she was there.
As if to fill the void it wasn't long until our cat bonded with Audie and followed her anywhere she would go. Now the two sisters are both gone but not forgotten, along with their huggable bodies and beautiful essence.
From both these gentle giants, I learned about unconditional love. They helped me to be comfortable with love and vulnerability. I am grateful they were part of my life.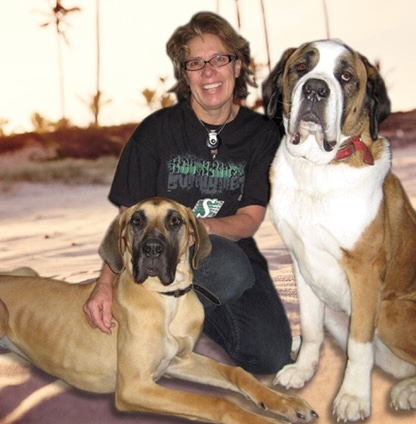 Contributed by their Mom,Val Inksetter