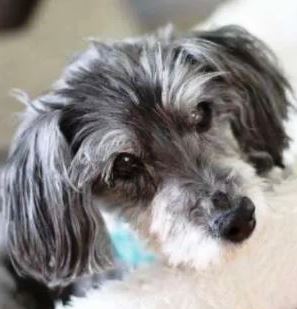 I was truly blessed when this little soul chose me to be his human. Born into abuse and left to fend for himself on the streets of Buffalo, Cricket went through a series of adoption fails before he found his way into my home and into my heart.
As a senior he entered my life when I needed him most. He got me through two knee surgeries, the passing of Keller, Picasso, Constantine, and Chelsea. The death of my dear friend Sue. Additionally, he filled the void that Chey, Kahlo and Hieronymus left behind.
He got me through the dark days of the pandemic when I was at my lowest and of course, the passing of my mom.
Chipper, I remember the time I first met you, you were the runt of the family and were so small. You were curled up by the wood stove in your first owners' home. I then knew that you were the one.
Chipper was the best dog and friend that you could ever ask for. I thank you for all the unconditional love that you gave to our family. Chipper had exceeded our expectations through her longevity, and with her illnesses. We were very fortunate to be your companion for 15 years. You were such a special part of our lives, and we will never forget that. I cannot believe that you are gone. You were a part of our life for such a long time I cannot imagine what it will be like without you.

My heart just breaks for her but I know she is in a better place. We didn't want her to suffer anymore and the past few days were so hard, even before we knew and had to make the decision. All I know is that it was one of the hardest things that I ever had to do.
But we had to let her go, it would have been selfish to make her suffer anymore. Our house is so quiet right now... But I know it will get easier and our tears will turn into smiles with happy memories. Always thinking of you and waiting until the day when we can be together again. I know that you are with Poppy Wheeler watching over us and especially our son Alex. He loved you dearly. We will cherish all the time we spent together. I know you are still with me and our family in our hearts.
You will always be with me baby girl and I will never forget you and your beautiful spirit. Chipper was held tight in my arms during her final moments with the words "I love you" being whispered in her ear over and over again... long after she couldn't hear my words anymore. I know that she is at Rainbow Bridge, pain free, running around, so very happy. I love you so much and I will miss you forever Chipper. God speed my beautiful Chipper Bear ♥
Contributed by his family Dave, Mary & Alexander Wheeler