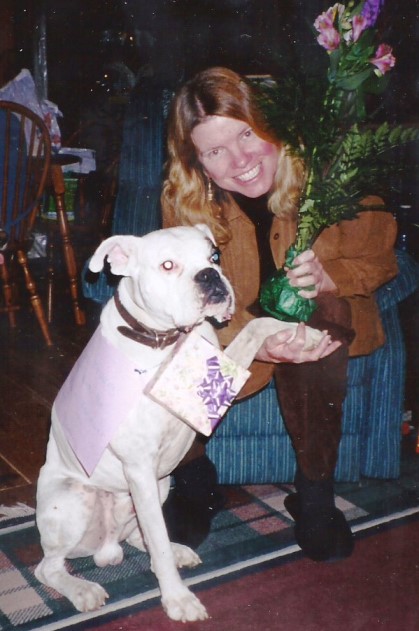 I first meet Curley in 2004 when I started dating my now husband Jesse! Curley was a white boxer with a brown eye patch around his left eye! When my golden retriever Sasha and I met him in St. Catharines it was love at first sight! Our two dogs hit it off right away and ran around my yard like they had known each other all their lives!
Jesse first got Curley as a puppy when he was 8 weeks old and he noticed all the silly antics that his little puppy would do. When Jess's parrot would squawk loudly Curley would run under the furniture to hide until he was too big. Then he had to find another hiding spot! I will admit the parrot was really loud! There we so many clown-like things that Curley would do and that is why Jesse named him after Curley from the 3 stooges!
When we moved up to Hepworth Ontario to be with Jesse and Curley, Sasha was thrilled that she now had some acreage to run around with her new brother! You may remember my Sasha story from a couple of issues back!

So, why do I say Curley was a clown? Well he did all kinds of crazy things! For instance, one time while I was busy in the kitchen and the dogs were running around outside, Curley came up to our back door with a tuna can he found in the recycling bin stuck on his big snout! Now my first reaction was laughter. Then I could see he was in distress so I removed the can right away! You must admit… it was a funny site to see! I could just hear him say "help me Mom"! I sure wish I had snapped a photo of him right then and there but did not think of it at the time! The main thing was to remove that tuna can from his snout!
Every time he would come to our glass back door and scratch to let him in, as we approached the door he would turn would turn his back to us as if to say "it wasn't me, scratching at the door!" He was such a good-natured friendly dog and whenever we would take them out for walks people would stop and ask about him. You did not see too many white boxers!
Curley did not like the water like his golden retriever sister did! We would take them to Sauble Beach or Colpoy's Bay and Sasha would go running for the water. But the first time Curley stepped foot in the water he held his paws up high and got out right away! Nope, our boy was not a water dog
I would say my best memory of Curley was in 2003. An incredibly special day indeed!
Jesse called Curley to come downstairs to our rec room, and I thought, "hmmmm, what are they up to?!"
A few minutes later Curley comes up the stairs with Jess behind him. I can see that Curley has a note taped to his back as well as a nicely wrapped gift attached to his collar! Curious, I removed the note, and this is what it said, "will you marry my Daddy?"
As you can imagine, tears of joy ran down my face as I unwrapped the box that held my beautiful engagement ring! Jesse presented me with a lovely bouquet of flowers, then placed the ring on my finger and of course I said YES!!
I then gave Curley a big hug and Sasha joined in while I kissed my new fiancé!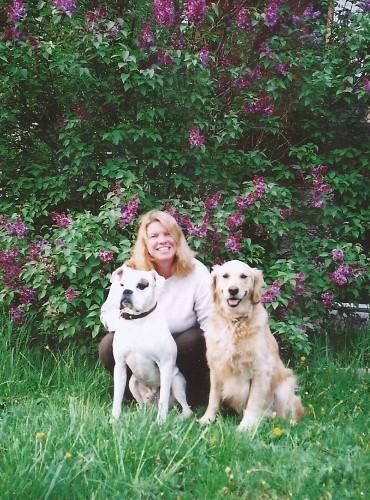 Curley lived a great life and had many adventures with us and Sasha. When Sasha passed, you could tell that Curley really missed his sister. As time went on you could see that our boy was starting to get senile and would forget simple things. I guess you might call it doggy dementia. He lived a good long life though and passed when he was 12 years old. It was an incredibly sad day for us as we buried him in our back yard beside his beloved sister. It has been many years now since both of our dogs have passed, but they remain in our hearts forever!

Contributed by WOW Gal Lee (Lyla) Royer & Jesse