(Cookie's reminisces about finding her mom Bernadette)
It's not hard to get "old", really it just happens. What is more interesting is how you get there. And you have to have a good human who will take care of the important things for you.
Most people don't know that tri-color cats have an excellent memory and can recall everything we've experienced through our lives. It's one of the reasons tri-color cats have been considered good luck through history, though most humans think it's only because of our unique coloring.
That extra gene that gives us our tri-color coat also gives us an extra ability both to remember and to perceive. Sometimes, we can be a little irritable, but it's only because we're processing an awful lot of information.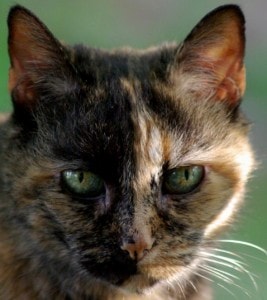 So, I remember all the way back to my beginning, which was pretty grim. There were four of us kittens with our mother and we were pretty happy and warm in our little box in a house until someone in the house decided we should be raised outdoors "like real cats" and put us outside. I was very young and still nursing, only tasting real food now and then.
Our mom moved us to a safe place then went off to get some food since she was told to "fend for herself". We never saw her again, though we called and called for her. Other little humans heard us, though, and led some other big humans to where our mom had hidden us. We were so hungry all we could do was cry. Unfortunately, by that time two of my sisters were silent and we knew we'd never hear them again.
One of the big humans picked up my sister and one of the little humans picked me up. The big human told the little one that we needed special food and it might be a lot of work, but that we were probably old enough to survive if we got enough food.
So, I went off with the little human, but not to live happily ever after. It seems his mom wanted no part of me, even though he already had another feline in the house. He brought me inside overnight because she didn't notice, but the next day she would put me outside. I really don't understand some humans.
But he fed me, and he played with me, and I understood that he really loved me, so I stayed close to his house and when he came outside to look for me it made him so happy when I'd magically appear from under a bush or around the side of the house.
He always managed to feed me something, but there were times when there wasn't much. Then the weather got colder and colder, and I heard him and all the other humans talking about how we hadn't had "snow", that icky cold wet stuff that gets on everything when it's cold outside, "that early in winter". When there wasn't snow it was just cold, and it really hurt my paws.
One day I had had enough. Cold wet snow was falling fast, and I just started walking. I found a spot where warm air was flowing out of a little window and settled underneath it, since it was somewhat dry there. I heard the boy calling and when he got close enough, I came out and he picked me up and began to carry me back to where we lived.
We stopped on the way to talk to a big human in a little house I had passed. While he held me and proudly told her "This is my kitty", I could see there were other cats in the house looking out the windows. They looked so warm and happy I could only wish, but I knew my future was in this icky outdoors. Still, I heard her say, "If your mom puts her back outside, just bring her here."
Later that day his mom came home and literally tossed me out the door into the snow, which was really deep and wet by then. He brought me back in, and I heard them on the phone, her saying, "I don't care if that cat dies it's not coming in here, he already has one…"
Then he put me in his coat and in a minute, we were back at the lady's house. "Don't worry," she said, "I'll take care of her, and you can visit."
So, we went inside, and she put me in a nice warm room by myself then left. There was a bowl of food and a bowl of water, but I was so tired and confused after my awful day that I ignored it at first and just curled up on a nice soft bed and fell asleep.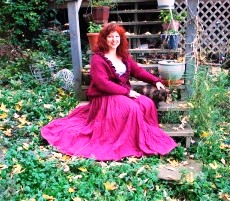 The lady came back in and picked me up to take me to another room with bright lights. She sat on the floor and put me on her lap and talked to me while she gently ran her hands all over me, pulled on my ears, lifted my face and looked right into my eyes, lifted each of my paws and felt all my toes. Any other time I'd have given her a piece of my mind at treatment like this, but it wasn't like the kids outside would do, and besides I was kind of in a stupor in the warmth with food and gentle petting.

I curled myself up on her lap really tightly and started on the second toe on my left hind foot. "Hmmm…" she said, picked me up and looked at my foot, pulling my toes apart and looking really closely.
Then she let my paw go and I went back to it with my toe, feeling a big profound purr begin deep inside me, but again she took my foot and inspected it and let it go.

This time she just petted me while I worked on my toe and after a while I heard her say, "Oh, little kitty, you're nursing on your toe…" Well, when I lost my mom and then my sister and I was alone a lot, I needed something for comfort. What could it hurt?

I stayed in the warm, quiet room with the food bowl and the lady came to visit a few times a day with food in a little can—yum! I heard the other cats outside and we sniffed under the door at each other. She petted me and talked to me and called me "Chocolate", but I was still wary and usually kept my distance when she came in, acting unconcerned, except when she sat down and then I could curl up on her lap and work on my toe. I just knew this had to end, and I wasn't going to get too accustomed to the room or to her since I had loved the little boy too, and had to leave there. I had lost my mother and all my sisters, and I wasn't taking any chances anymore.
But one morning when she came in and cheerily said, "Good morning, Chocolate!" I impulsively turned and walked over to her, put my tail up and asked her a question with just my eyes, "I'm staying here, aren't I?"

"Oh, little kitty, I'm so glad you're happy to be here!" Humans can be very intuitive too. I knew I was right. And I knew that I'd be devoted to this person for all my life. Eighteen years later, I still am. In fact, right now I'm properly draped across her lap, right paw extended and my chin resting on her right wrist as she types, and just a little purr is intended to massage her wrist and to relax me. Mom is working and I am attentive as her kitty in waiting. We are very happy.
I grew to love all the cats who were here when I came for what they taught me, even those who came for a while then left, and all the others who came and stayed and are still here. I even managed to get over my pique when my mom took in another tortie, that scrawny, noisy Kelly who is so un-tortie in so many ways, and now it's hard to believe that Kelly is a senior cat too.
I knew some day I'd hold this position of honor as the lead cat in the household. I was instructed by the best cats in the world just exactly how to take care of my mom and how to be a leader among cats so that you earned respect without having to lift a paw, though sometimes you need to say something. Usually, a stern look will do.
But mostly I've loved being one of my mom's guard cats. I knew this was my place and learned the position from my sister Sophie, who was here when I came in and who became my closest friend in the household, though she could be a little strange at times. Still, whenever our mom settled down, we would take our positions on either side of her, either curled in vigilance on either side of her on her desk or literally leaning against her ankles, either just being vigilant or giving her the strength and support she needed in the moment.
Recently, I started helping her in her shop where I greet and supervise customers, and of course you know I am on the sign to let people know where to find good cat art—with me as a subject, how could it be otherwise?
(Bernadette's adds her two cents as well)
Cookie is with the rest of my feline family in the heavens, but her love is with me forever.

Cookie was my main tortie and with me the longest of any cat in my household. She had many stories to tell.
She's been a very special friend of mine all these years for reasons you'll discover the more you read her stories.
After Cookie's passing I think I saw the torch being passed to the next generation.
It seems that they are already vigilant, but it will take all four of them to fill Cookie's little pawprints in the time ahead.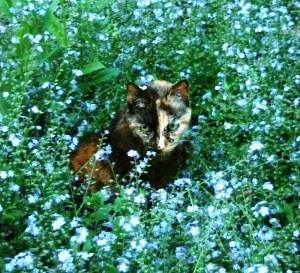 About Cookie's name…tortie cats can look very brown when they are young, before their markings develop clarity on a slightly larger body, and Cookie was the first tortie I encountered. I called her "Chocolate" because of her coloring and because she was sweet. Because she was small I called her "Chocolate Chip". One day I called, "Chocolate Chip, Chocolate Chip Cookie, Cookie, Cookie and she ran out from under the bed with big round eyes as if to say, 'How did you know my name?' " She's been Cookie from then on, but her full name is Semi-Sweet Butterscotch Peanut Butter Chocolate Chip Cookie Dough. You know how these things develop.

Compiled by Carolyn Shannon, Contributed by Mom Bernadette Kazmarski
Resources & More About Cookie: