I'd owned guinea pigs throughout my life, but Chocolate was the first one I really loved.
I got him when I was 14, and I gave him his name because of his brown fur. He had a stripe down his nose, the colour of caramel.
Often, he would lie across my chest and burrow into my jumpers.
I read somewhere that guinea pigs lie there because they like to feel your heartbeat, and I always thought that was what he was doing.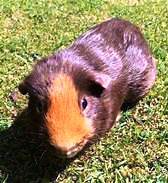 He ate everything, but he went crazy for curly leaf kale and broccoli.
I'd bathe him or I'd put him in my lap, feed him bits of strawberry and slices of cucumber.
Sometimes he'd fall asleep and wake up with strawberry stains all over him.
Once he got older, he got lazy, and he would sit on my lap while I watched television, crunching vegetables to his heart's content.
I was at university when Chocolate got sick. At first, it was regular check-ups at the vet, and he was very weak.
He had two benign tumours removed by the time he was six.
I was still regularly visiting home. I remember his little legs used to fall beneath him, so I'd have to put him on his side when he sat with me.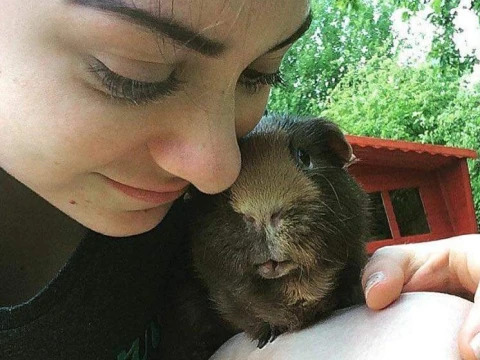 Seeing a friend that I loved looking so vulnerable like that gave me a horrible feeling; I had a sense of what was to come.

It was the summer of 2016, my final year, when my mum gave me the call I'd been dreading. 'What do you want to do?' she asked, but I knew it was Chocolate's time. I should have been there, but that summer I was given a work opportunity I couldn't pass up. The day after the call, Chocolate was put down at the vet.

The worst thing was feeling like my hands were tied and that I couldn't say goodbye. I felt helpless knowing I couldn't get back in time. Just as my career was finally starting to take off, I'd lost him. I kept thinking, 'Why now?'

I distinctly remember a little white feather appearing out of nowhere and sticking to the railing in front of me as I walked the next day. Strange as it sounds, it gave me a small bit of comfort.
But I was gutted. Chocolate was a huge part of my life – whenever I was at home, he was by my side. He was a constant for seven years. Their life expectancy is about five to seven years, but none of the guinea pigs I had before Chocolate lived past four.
We bought a little box for his ashes, which I keep in my cupboard at home. I still feel guilty, even now, that I was so busy at the time, but that's just the way life is sometimes. Things come up at the wrong time. There's no 'good time' for death.
I felt like I couldn't tell anyone about Chocolate when it happened. As a teenager, when one of my other guinea pigs had died and I told friends how I felt, they found it amusing that I was so sad, saying it was 'just a guinea pig'. But he wasn't 'just a guinea pig' to me. For me, Chocolate was a part of my family. After him, I never got another guinea pig.
Chocolate was a companion. Animals are different to humans – their loyalty is to you. They don't care about anything but the time you spend with them.