Best Friend to All Brutus Colter
A pet tribute is not easy to write when you have lost a loyal companion. We had been without a pet for two years after our 15 year old border collie passed away with cancer in the winter of 1995. We have been told that pets can get the same diseases and illnesses as humans.
We found that we were feeling more stressed and uncomfortable with ourselves
upon arriving home after a long day at work. What was different in our lives?
Then we realized that we did not have a pet to come home to who wagged his tail
repeatedly to greet us at the door, who wanted some attention or maybe a treat,
and who wanted to play or go for a walk. A pet who made us laugh often.
We were invited to a farm to see some puppies old enough to leave their mother.
We intended to just look but when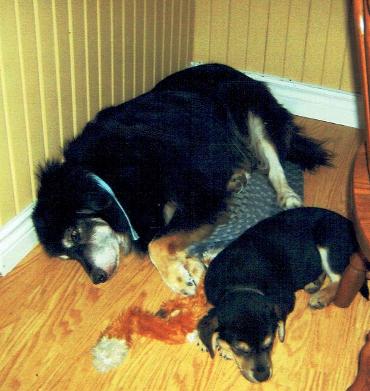 we saw the puppies we chose one very
quickly. I was willing to train him at home as I had just retired from teaching. We
realized that we wanted a pet as a companion and a friend.
We were not very creative about dog names as our children and ourselves settled
for Brutus, the third. Although he went to puppy school to learn good manners,
he seemed to have a mind of his own. The veterinarian who was the trainer
almost failed him. We decided he had selective hearing and we would work with
him at home.
Brutus loved his walks before bed at night. He went through the usual puppy
chewing phase including chewing my husband's brand new pair of glasses after a
family Thanks giving. It was so funny watching the dog hiding under the pool
table as my husband chased after him to retrieve what was left of his glasses.
Upon house training, I would take him outside every three hours until he was able
to go longer. He was so small as a pup I would lift him up and put him in the
flower beds for safety in case he ran away in the dark. One dark night out of nowhere a large German Sheppard approached us and I did not know what to do
when I heard a voice in the dark say, "He's friendly. He's friendly." For the next
few years these two dogs played together and walked together during the day and
sometimes at night.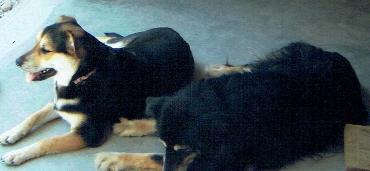 Here I was enjoying retirement while training our new pet and the young owner
of the German Sheppard, named Riley was just beginning his career as the newest
minister in town. When I realized he was a minister, I immediately looked to the
sky and said, "What is in the future for me to have a minister on my doorstep?"
As it was for the future, the dogs became very good friends as the pet world was
recognizing that dogs should be socialized with other dogs.
As Brutus aged his hind legs were tired and he had to be boosted up the steps. He
even had laser treatments on his long back due to back problems. But by this time, it
was not known how much longer we would have him as our pet.
Just before he
turned 15 years old a family member gave us another puppy as she knew we
needed a pet in our lives. In the pictures, the two dogs quickly became close friends.
Then one day
we knew we had to make a decision to say good-bye to the old guy as we called
him. He was not having good quality of life. He was losing control of his kidneys as
he was always a clean pet in the house.
He was 15 years old and according to dog years as 7 years for every human year,
he was 105 years old in human years. At that time, we realized we were being
selfish as we did not want to let him go but for his lack of quality of life the only
kind thing we could do was to have him euthanized by the same veterinarian who
had puppy trained him many years ago.
There is a beautiful pet poem that I once read that talked about being kind to
your pet when you know they are suffering. My husband took him to the vet and
I stayed home with our other dog who is an Australian Cattle dog and a best
friend of Brutus. Since my husband returned home without Brutus in the truck, she
has refused to go in the truck with him.
If my husband goes outside she will wait
until I go outside. If I am in the house alone, she wants to be with me. We have
no idea as to what she is thinking. We have thought about getting another dog for
a friend for her but she is now ten years old and we do not look forward to saying
good-bye again to a loving loyal pet. Brutus's memory and his ashes are with us.
We still miss him. This is my "WOW Pet Tribute."
Contributed by WOW Gal Sharron Colter